Rainbow Mural in Small Bedroom – Video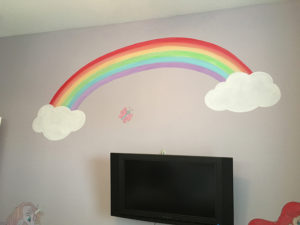 Painting a mural can make a small room appear larger!
After driving to my client's home
I met briefly with Scarlett and her mom.
We went over the best room layout
and a list of Scarlett's favorite things.
What do little girls dream of?
4-year-old Scarlett wanted a rainbow, unicorn, mermaid, flowers and butterflies!
She also loved fairies.
Her bedroom was small but had high ceilings.
We decided painting a giant rainbow with clouds above the tv was a great choice.
Painting clouds, and a sun with a happy face, above the closet will use that wall space well.
After our discussion, Scarlett went off to school and her mom went to work…and I got busy!
Here is a before and after video of the rainbow mural.
Since furniture would not be near the entry door,  it became the perfect spot for a unicorn and some large flowers.
I painted simple grass around the base of the room with different size flowers.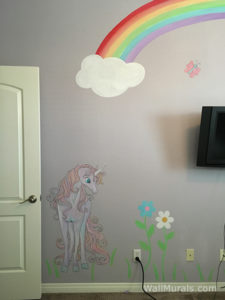 I deliberately placed 2 large flowers next to the mirrored closet and the reflection makes it look like 4 flowers.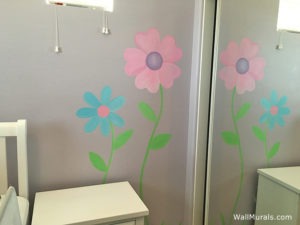 The reflection of the painting in the mirror makes the whole room feel bigger.
The mermaid can be seen from the bed and a fairy is sprinkling pixie dust just above the bed.
There are randomly placed butterflies painted around the room to add color and movement.
The room turned out really nice.
See more girl's room murals
This mural was painted in Huntington Beach, CA
I am located in the center of the San Fernando Valley, in Los Angeles County.
If you live nearby I can paint a rainbow mural for your little girl's room.
Save