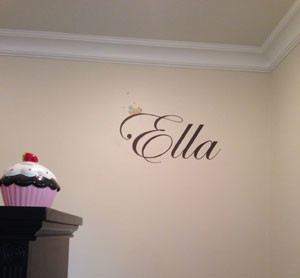 Thinking of having your child's name painted on the wall of their bedroom?
Since two sisters are going to share this room, my client wanted the names painted both
above the crib and above the twin size bed. I centered the names above where the beds would be.
I used a chocolate brown color to paint the names, Lilly and Ella.
Brown complimented the dark hardwood flooring and brown furniture already present in the room.
We thought it would be a fun touch to add some birds sitting on the names.
I painted a crown on the big sister bird and a tiara on the baby bird in the nest.
I added a few music notes..and wow…so cute!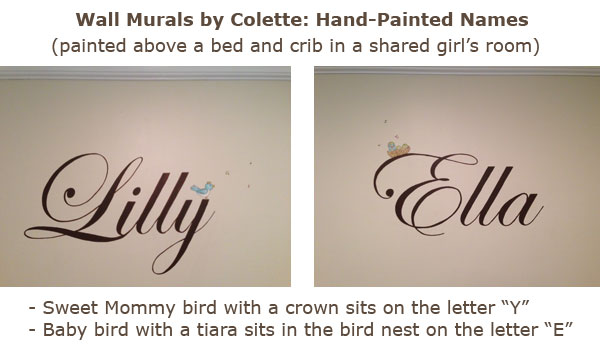 Sometimes the simplest things look awesome!
This mural was painted in Northridge, Ca
Here is a close up of a similar baby bird design since it is hard to see in the photos.
(above) Princess Baby Bird
If you like this design, it can be personalized and printed onto all sorts of print to order gifts.
Click image to see this design on ALL baby clothes, drinkware, maternity clothes, baby blankets, and more!
(click images below and go to actual items)
See more baby room wall murals
Save
Save