Empowering Words Painted on Wall in Bedroom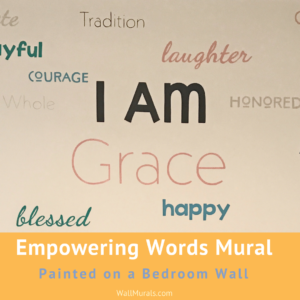 Words can motivate, inspire and empower.
This mural was painted in a baby room but could just as easily have been painted in an older child or teen bedroom.
Surrounding ourselves with positive words can uplift as well as infuse with confidence.
When positive words are viewed regularly we can absorb their meaning both consciously an subconsciously.
This lucky baby is named Grace.
My client wanted the words "I AM" to be painted large and in the center of the wall, and the word "grace" to be part of the meaningful words chosen, instead of it standing out as a name.
My client also chose 50 more words that she wanted to infuse into her baby room.  I hand-painted all of these words onto the wall in 4 different fonts.
For colors, we decided to paint the words to match the baby room bedding.
View the video below and see how it turned out.

(The blue tape was only to mark off where wall sconces will be hung.  – We wanted to make sure to leave enough  space for these custom light fixtures.)
I loved the idea of painting words on the wall of this baby room. It felt like I each word I painted was wishing blessings for this sweet little girl.
After painting this mural I felt inspired to create word-art of my own.
I personally value having a positive attitude and growth mindset. Being surrounded by things that keep me uplifted and centered makes me feel good as well as be more productive.
Since 2 of my friends had upcoming birthdays, and they also believe in the power of words, I created gifts with word-art for them.
One friend is a life coach and works with clients to find effective ways to alleviate stress. Here is what I created for her. (see image below)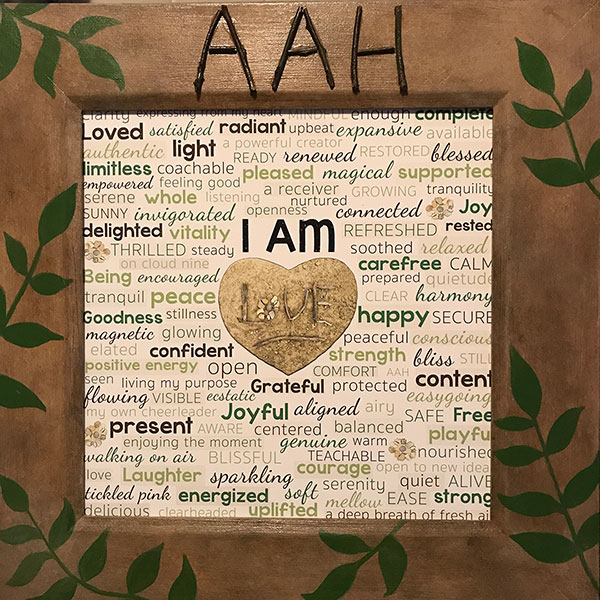 I themed her word-art around nature, nurture, refreshing and relaxing. For her text, I used greens and browns – refreshing colors found in nature.
I also hand-painted the frame and spelled out the word "aah" in twigs to compliment the photograph in the center. (The center image is the word "love" spelled out in sticks and stones.)

Another friend was overcoming cancer and very aligned with wellness, healing, health and keeping a positive mindset. I selected words carefully and infused her gift with words that expressed everything she valued important to her healing.
I placed a photograph of her in the center of her art that captured a happy moment from her final day of radiation. (not pictured – because I  want to check with her before posting it online.) I selected bright colors from this same image so her word-art had a fun and happy vibe.

Since I really enjoyed creating custom word-art for my friends and they loved their gifts, I thought it would be fun to design some positive message T-Shirts and products.
I created some motivational and inspirational quotes that would also be fun to wear. My shop is called Impactful Choices

Here's what I came up with:
"Create Time to BE Still, Refresh and Connect"

In today's busy world with all our gadgets and tech devices it's easy to get really stressed out. Remembering to "Create time to be still, refresh and connect" can really help us de-stress.
Meditation, yoga, walks in nature, enjoying the sound of silence, reading and remembering to take time to maintain genuine connections with our loved ones is very important.
"Notice and Celebrate Small Victories"

It's easy to feel overwhelmed when we have a big goal that takes a long time to reach. We naturally celebrate things like a graduation, new job, a wedding or new baby.
Remembering to "Notice and celebrate small victories" along the way to weight loss, learning a new skill, or creating a new good habit can energize us and keep us going for our dreams.
Imagine inspiring yourself or someone else just by getting dressed or going about your day!
Click items (below) – Links will open a new page
T-Shirts and Clothing
"When Challenged, Just do the Next Right Thing"
Pillows
"Changing Perception Changes Outcomes"
Pajamas
"Today is a Great Day to Begin Something New"
Keychains
"Repeated Small Actions can Create BIG Results"
I also painted a mural that incorporated motivational quotes into the branches and roots of the tree.
See behind the scenes of an Inspirational Tree of  Life –  Mural
Save
Save
Save
Save
Save
Save
Save
Save
Save
Save
Save
Save
Save
Save
Save
Save
Save
Save
Save
Save
Save
Save
Save
Save
Save
Save
Save
Save
Save
Save
Save
Save
Save
Save
Save
Save
Save
Save
Save
Save
Save
Save
Save