There are 2 parts to this site: a STORE and Painting SERVICES
My specialty is Custom Hand-painted Wall Murals 
that are simple, elegant and not overly busy. I love painting murals that reflect the taste and personality of my clients. View my Portfolio of Wall Murals and
get inspired
. Then…
Let's brainstorm mural ideas for
your home or business!
Contact Me
"Wall About Fun"  Wall Art
makes it easy to decorate!
View Hand-painted Murals
 If you are thinking about getting a mural painting, but don't know exactly what you want…
Wall Murals by Colette – Muralist in Los Angeles, CA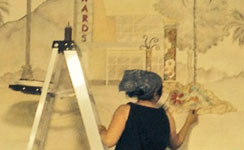 (Southern California Mural Painter – Los Angeles County, Orange County, Simi Valley, Ventura County & Antelope Valley)
Mural painting can transform a School, Children's Center, Children's Hospital, Pediatrician's Office, Child Dentistry Office, Hallway, Children's Waiting Room, a Baby Nursery, Child's Bedroom, Kindergarten, Daycare, Preschool or Playroom. Painted murals can add fun to Home Offices, a Business and Outside Areas like a preschool playground or on an exterior wall by a swimming pool. Get a quote for a custom mural on your walls.
Hire a Muralist near Los Angeles, California
Save
Save
Save
Save