Winnie the Pooh Wall Mural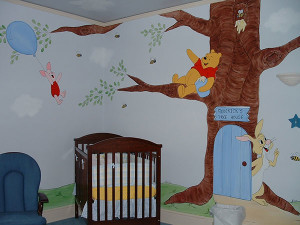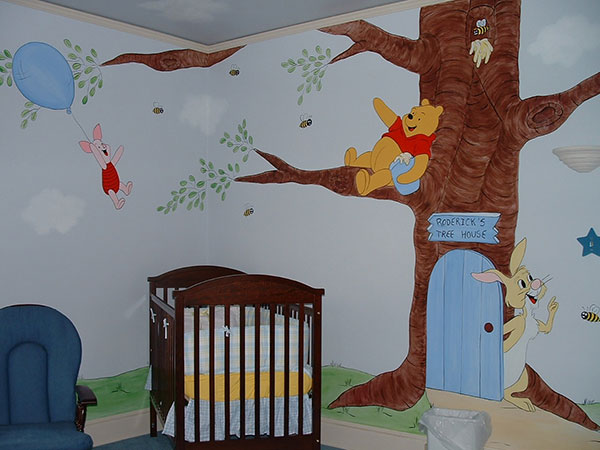 Are you thinking of decorating your baby nursery with Winnie the Pooh themed room decor?
You have to see this wall mural.
The characters look exactly like they walked right out of the story book.
There is a tree painted with Winnie the Pooh on a branch holding a honey pot.
Piglet is holding a balloon and floating through the air. Rabbit is peeking out of a door in the tree and Tigger is bouncing, bouncing, bouncing…
If you already bought Winnie the Pooh bedding and room accessories you can have a mural painted like this to pull the whole nursery together.
The crib is a dark wood so the tree is painted a dark brown to match. The tree trunk goes all the way to the ceiling. Tree branches and leaves frame the ceiling edge like a border. This really makes the room feel very relaxing.
There are some soft clouds sprinkled around the room and onto the ceiling, too.
Notice the honey hive in the tree with honey dripping and a queen bee – the bee is wearing a crown! Other bees with silly expressions are flying around the room.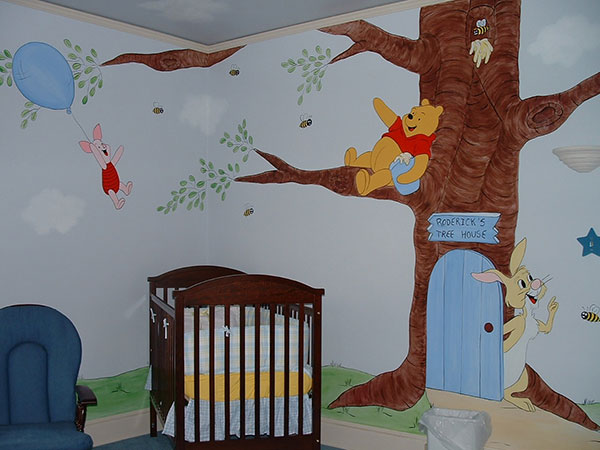 The sign above door, Pooh's honey pot and Piglet's balloon are all blue to compliment the blue glider.
The sign on the tree is personalized with the baby's name. It says: Roderick's Tree House
Here is the other side of the room…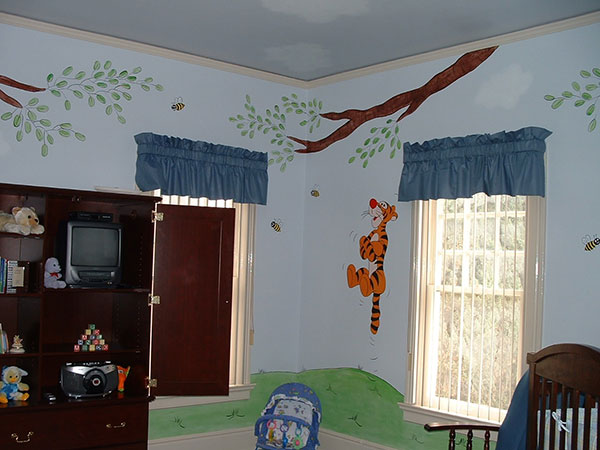 Tigger is bouncing along…and notice again the way the tree branches really frame the top of the room.
All the characters are strategically placed so the furniture will not hide them. Notice how the crib could be turned longways against the wall and the mural will still look perfect. Pooh and Piglet will still be seen smiling at little Roderick.
The Tigger will never be covered up, either.
Imagine how happy this little boy will be falling asleep and waking up to his happy animal friends.
Sweet dreams little baby….
See more Baby Nursery Murals
Save
Save