Welcome to Outer Space – Video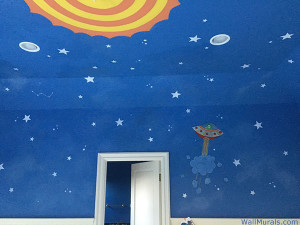 Experience how it feels to walk into a room with a space mural painted on the ceiling and walls.
Think about decorating a boys bedroom with space and planets room decor
and have something painted to match your space accessories.
Glow in the dark paint was painted over the stars, too.
What client asked for:
We want a ceiling mural of outer space to compliments Oliver's space bedding.
We want a giant sun painted in the center of the ceiling. A light fixture will be hanging down from the center.
We have real planets to hang from the ceiling so no need to paint planets.
We definitely want lots of stars painted and not just dots. We had a mural painted in our past house and the muralist only painted dots.
Glow in the dark paint would be cool.
I asked what some of Oliver's favorite things were and was told he liked Darth Vader and Minions.
(but that they weren't too into characters.)
I asked if Oliver would like a rocket ship, astronaut or a spaceship with a silly alien in it.
He said he would like that.
Basically, they said for me to just go for it and use my judgment and trusted me to paint the mural while they went out of town for a few days.
This is what I came up with!
Enjoy…
I painted a rocket ship, astronaut, spaceship, alien, floating minions, a giant sun, 3-star constellations – Big Dipper, Cassiopeia, and Oliver's name, as well as tons of stars and shooting stars.
The finishing touch was adding glow in the dark paint over some of the stars.
This space painted ceiling and walls turned out really cool.
See more Space Wall Murals