Strawberry Wall Border in Kitchen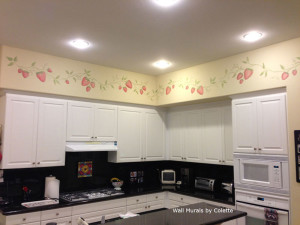 Who Loves Strawberries?
I had such a wonderful day creating this strawberry wall border in Santa Clarita, Ca.
My client had been wanting to do some creative painting in her home for years and we came up with the most delicious kitchen!
She was excited because she was being pro-active in hiring an artist…but also nervous because she had never had this type of service before and didn't know exactly what she was going to get.
Here is what we co-created together:

Custom Strawberry Wall Border in Kitchen – Painted in Santa Clarita, CA
What client asked for: Giant strawberries, vines, blossoms, and some whimsy – we decided on some bees. She loved red and unique things, wanted to use the large space bordering the kitchen but did not want the painting to overwhelm.
With this wish list, I got busy creating! My client hung out with me during the painting process and really enjoyed seeing her kitchen transform.
After the strawberry wall border was finished my client said, "I love it! Why did I wait so long?"
She had saved a snapshot of a mural she had seen 15 years ago when she first had her idea
…and…
She had gotten my contact info from a friend 3 years ago!
She was very happy with her custom kitchen painting.
See more Kitchen Wall Murals
Save