Painted Teddy Bear Mural in Baby Nursery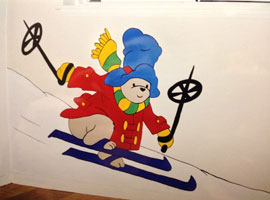 Here's the Story…
This custom hand-painted teddy bear wall mural was painted to match bedding
and incorporate a sports theme into a baby nursery for some first-time parents.
I love painting nurseries.
I get to create a special environment for these greatly anticipated little beings to live in.
WHAT CLIENT ASKED FOR:
My client wanted the painted teddy bears to match cute teddy bear on her baby bedding.
This family was really into sports and wanted me to incorporate – soccer, skiing, and golf into the design.
These were the "parents to be" – favorite sports.
…and they wanted me to basically make the nursery beautiful for their first baby boy.
WHAT CLIENT RECEIVED:
The golfing teddy bear was painted to left of the change table with the golf ball and swoosh marks above the change table and the hole and flag to the lower right.
The soccer teddy bear scene was painted above the crib area and client selected the number 11 on the shirt for sentimental reasons.
The skiing teddy bear was painted under the baby nursery window and to the right of a closet that opened outward. (No furniture could go here because it would make opening the closet difficult so it was a perfect place for another bear to be painted.)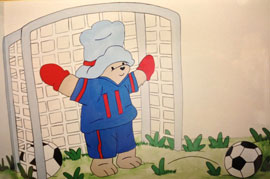 Teddy Bear Goalie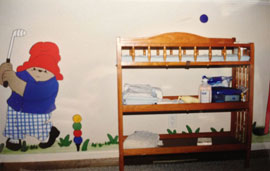 Teddy Bear Golfing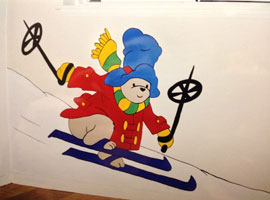 Teddy Bear Skiing
(I painted this Teddy Bear Mural in Burbank, CA)
This family moved out of state a few years later and contracted me to fly out to Arizona!
(the first time to paint a nursery and a toddler room, and the second time to paint all 3 boys room as they were quite older and missed their murals when they moved into a new house.)
I really enjoyed getting to know these boys and they had fun participating in working with me to get the murals in their rooms just right.
Since my clients knew I also entertain children on the weekends as "Sparkles" she set up the timing so I could entertain at the school of the 5-year-old in his kindergarten class for a birthday party. 🙂 He felt very special.
See more teddy bear wall mural examples
Save