Painted Cabinets in Preschool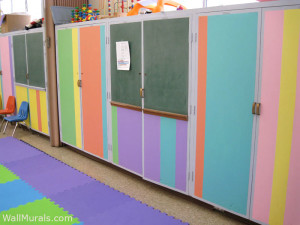 Custom Hand-Painted Cabinets in a Sherman Oaks, CA Preschool
Preschool cabinets had a brown, dated, corkboard covering on all doors that spanned the length of 2 classrooms.
I forgot to take a complete before picture but did get a photo of one of the cork board doors covered with primer
and the teacher's paper coverings still present on the other doors.
Teachers spent a lot of time and supplies covering bulletin boards in this classroom!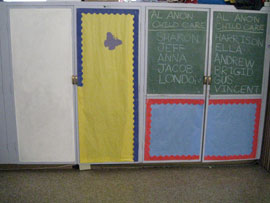 Dated Preschool Cabinets – Before Painting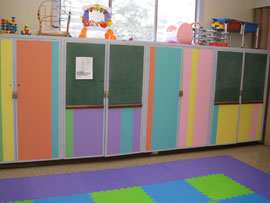 Painted Preschool Cabinets – After Painting
WHAT CLIENT ASKED FOR:
Client asked me to add fun colors
Keep the design simple and conducive to learning
Something geometric, maybe stripes or polka dots
Paint it to eliminate the need for paper coverings
Keep the corkboard front of cabinets functional so able to use push pins and staples when teaching
Turn a boring wall of brown into a fun and child-friendly learning area without us having to remodel by replacing cabinets.
WHAT CLIENT RECEIVED:
After testing to see if primer stuck well to the cork surface, I covered the cabinets with primer.
I measured out wide stripes in different widths keep the design calm and not too busy.
I alternated fun and kid-friendly colors down the long length of cabinets spanning the two classrooms.
This will sure save the teachers a lot of time…and they can still use push pins!
Meanwhile, on the other side of the room…. were some bulletin boards in the need of a fresh look….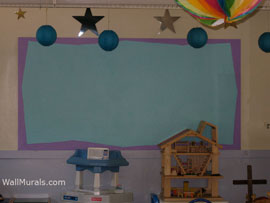 This one was not framed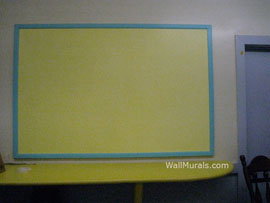 This one had a frame
Large brown bulletin boards were primed then painted with fun colors to compliment cabinets.
An asymmetrical border was painted for one (on the left) that had no structured frame.
Painting the cork gave a fresh new look to existing functional items. It's fun to decorate with paint!
See more preschool wall mural examples
Save