Outdoor Wall Mural – Casita de la Paz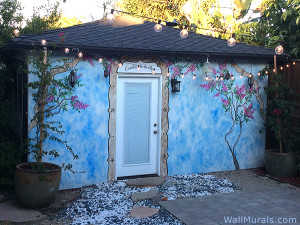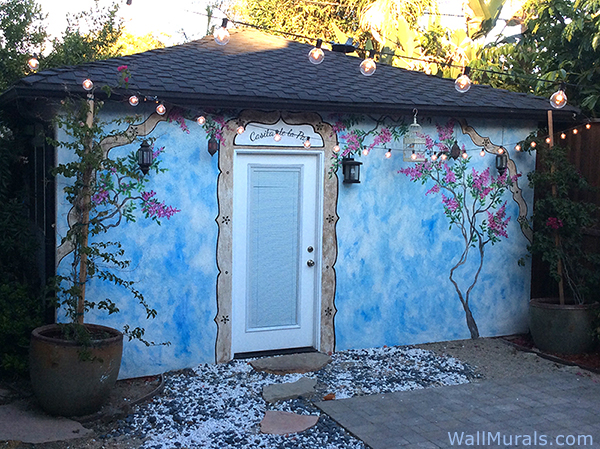 This outdoor wall mural was painted on an exterior wall – The entry to a guesthouse.
Painting an exterior wall that faces a pool, patio or a yard can really make a difference.
My client wanted to make the patio area of her backyard more colorful and inviting.
She had some fun ideas for a mural and called me to see what was possible.
What client wanted:
I want my backyard patio to have a colorful Moroccan  look and a peaceful relaxing feeling.
I'd like a Moroccan style painted door frame.
I want to name the guesthouse and have that name painted above the door.
(She decided on Casita de la Paz which means Little House of Peace.)
Since there are beautiful bougainvillea plants in planters next to the guesthouse, I would love to have some painted bougainvillea on the wall.
I want some blue on the wall – maybe rubbed on so it looks random.
Here is a picture of the exterior wall before I painted.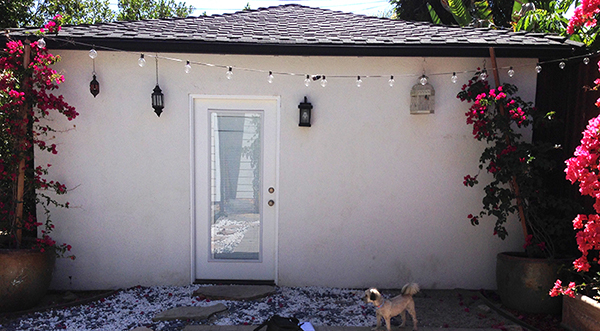 I did a little research on Moroccan doors and colorful Moroccan exteriors and came up with a plan.
Here is the rough sketch.

We set up a painting day.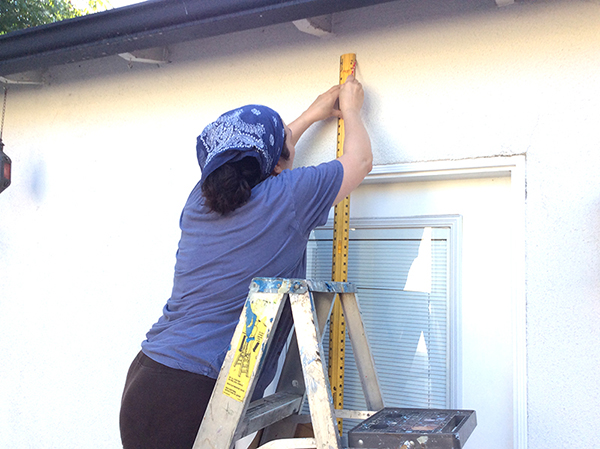 Here I am sketching the mural layout.
I measured around the door to get the door frame layout, just right.
Then I centered the text, "Casita de la Paz" above the doorway.
(I had printed it out to scale, in a font we both liked,  and taped it above the door so I could get it perfectly centered)
…Then I  began color washing the wall blue.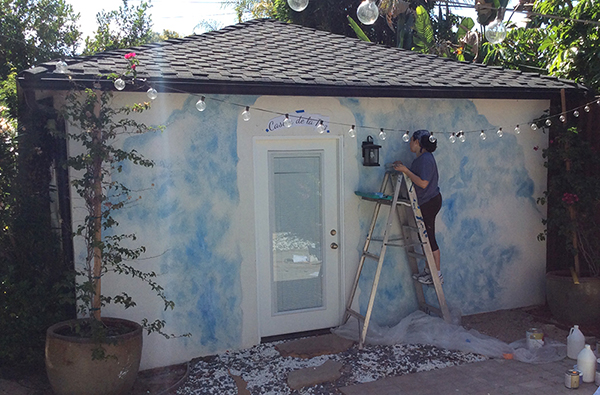 Next, I painted the door frame brown.
…and I painted in the words "Casita de la Paz"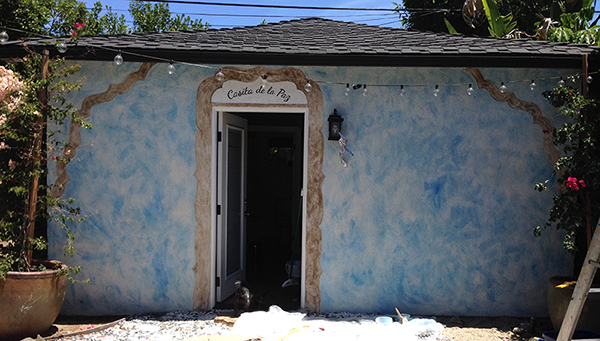 Finally, I painted pretty bougainvillea plants and some details around the door.
Here is the finished exterior wall mural with bougainvillea plants.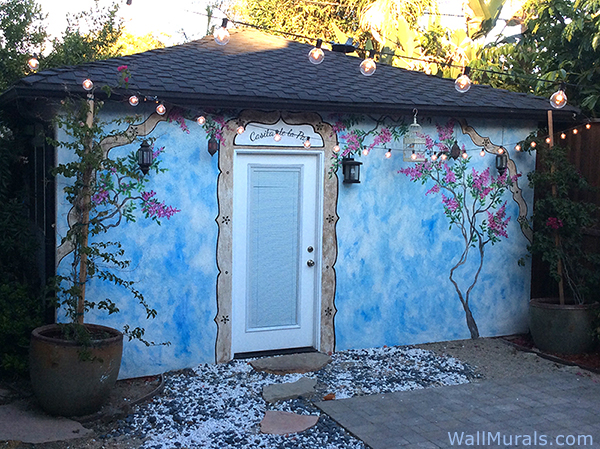 (This mural was painted in Sherman Oaks, CA)
My Client was very happy. The mural added just what she wanted to her back yard.
And when the real bougainvillea plants are in full bloom the painted bougainvillea looks like an extension of the real plants.
If you have been thinking about having a mural painted on an exterior wall, fence or gate, start collecting images of things you like.
This will help your mural painter envision what you are imaging.
If you live nearby, I would love to brainstorm ideas with you in your space.
Just give me a call.
See more examples of Wall Murals Painted Outside
Save