How to Paint Cement Stones – Video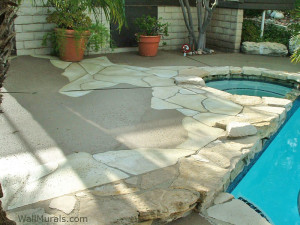 What do you do when your cement walkway or
the concrete next to your pool starts to have
stress cracks?
…or stains?
Paint stones on cement of course!
This video shows how to paint on cement.
I  hand-painted the concrete to match the actual stones surrounding this pool and jacuzzi.
It turned out amazing!
Learn how to paint stones on concrete.
Put on your sunscreen…and give it a try yourself!
I used driveway paint as the white base paint and got the pigment separately instead of mixed in, so I could blend a variety of colors to match existing stones next to this swimming pool.
The paint name was Monochem – Floorcoat (a high-performance garage and driveway coating that forms a very durable low-gloss finish)
If you give it a try send me pictures!
The painted stones will gradually wear off in a random pattern.
At that time, use a wire brush to get any loose paint off
Wash the area to be painted
Apply paint again in the same manner shown in the video
Painted stones really add an artistic flair to cement – and disguise patching beautifully!
See more Pictures of Hand-Painted Stones
I can paint stones on cement for you if you live near Los Angeles, CA