Dinosaur Mural in Boys Bedroom – Video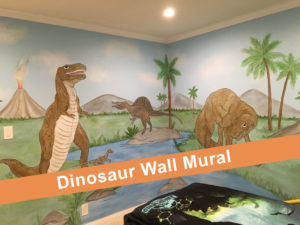 Experience what if feels like to walk into a room painted with a dinosaur wall mural.
Thinking about decorating a boys bedroom with dinosaur room decor?
Have a mural painted to match your dinosaur accessories.
Here's how it works…
What client asked me and desired:
We want a dinosaur mural.
We have dinosaur bedding and a jeep bed and want the mural to look good with that.
The room is really small so should we just paint on one wall? What is the best layout to open up the room?
My son has favorite dinosaurs and we want some of them big. Not too many because the room is small.
How do we proceed?
I suggested we meet in person with her son present because her 5-year-old has strong preferences when it comes to dinosaurs!
I brought my dinosaur reference items with me and we met in her son's bedroom. He picked out his 4 favorite dinosaurs.
We rearranged the furniture for the best functionality of the room.
It's amazing how turning one piece of furniture can really make a difference in the amount of space available in a room!
We looked at the available wall space and her son's favorite dinosaurs and got our master plan mapped out. We decided some volcanoes erupting, a watering hole, some palm trees, and grasses would look great in the background.
On paint day, I had my client and her son be present while I sketched out the main dinosaurs. He wanted them specific sizes so I thought he would like to be there. Once the sketch was on the wall my clients left for the day…and I got busy painting!
This video shows the mural in progress and the finished mural!
Enjoy…

Notice how adding palm trees in the corners is a nice touch.
Mirrored closets reflect the mural and make the small room feel much larger.
I got the best layout for the mural and made sure the furniture was functional first so it would not cover up anything important.
Clouds were used as filler to make the whole room feel like an environment.
Volcanoes and layered palm trees add a feeling of depth without overwhelming the room.
It turned out really cool.
See more Dinosaur Wall Murals