Castle Wall Mural – Video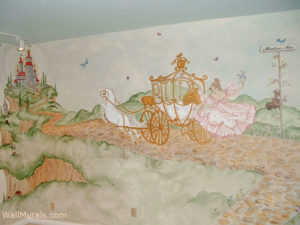 This Castle Wall Mural was originally painted for a baby girl nursery.
The color scheme was burgundy, deep green and dusty blue. The castle mural is painted in a soft, watercolor style.
The baby was named Madison so we painted her name on a street sign in the mural.  (Madison Ave.)
The beautiful princess is dancing next to a horse and carriage that has gold accents.
A cobblestone path leads up to an elegant castle.
When my clients moved they had me repaint the mural because they loved it so much.
In the video, you will notice the mural is painted it in the opposite direction to go better with the room layout in my client's new home.

Apparently, the mural has turned out to be timeless.
Recently I was back to the house and Madison is all grown up…a teen.
Although other walls in her room are painted with her new favorite color, she enjoys her castle and princess mural so much that she still wants it in her bedroom.
How cool is that?!?!
In the original nursery, I also painted burgundy curtains around the window.
Here is a picture of the painted curtains.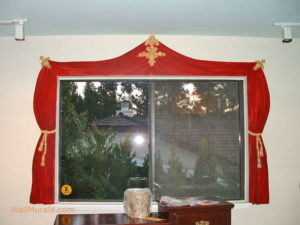 The baby room was fit for royalty!
Thinking about getting a castle mural painted in your little girl's room?
See more castle-themed wall murals.
Save