Boys Room Wall Mural – Race Car, Sports, Space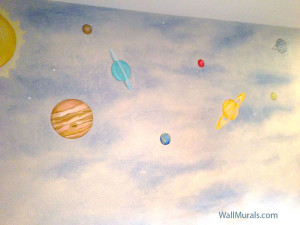 Get your son's favorite things painted on his bedroom walls.
This multi-themed wall mural was painted for a 4-year-old boy.
His favorite things are:
outer space and planets
golf
formula one race cars
soccer
Hmmm…I wonder how all of these different things can be incorporated into a mural?
How can these different things be combined and the room be painted in a cohesive, tasteful way?
Watch this video to see!

This boys room mural looks even cooler in person.
It is so much better than the video captures!
A navy blue, twin size bed is going to be placed under the planets.
Green grass unites the golf, soccer and race car theme … in a way that flows across the long wall.
Anyway…hope you are getting ideas and this video empowers you to think up ways you can incorporate your son's favorite things into his bedroom.
See more boys room wall murals
See more transportation theme wall murals
See more sports theme wall murals