WALL ABOUT FUN – STORE
As of August 2017, we are no longer selling wall decals.
Please visit our Gift Shop which features similar art on a huge variety of clothing and other "fun stuff" that you can customize with a name.
Create a one-of-a-kind gift.

(Products ship worldwide)
You can design a special gift  by personalizing apparel, home decor or novelty items.
Find out more
Enjoy a good read.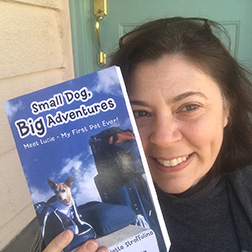 Small Dog, Big Adventures:
Meet Lucie – My First Pet Ever!
Written and Illustrated by Colette Stroffolino
(available in all major bookstores)
Find out more
Our Gift Shop makes it easy to personalize a gift.
Save
Save
Save
Save
Save
Save
Save
Save
Save
Save
Save
Save
Save
Save
Save